Building in harmony with nature is an increasingly reflected theme in modern architecture. Nature-inclusive construction was considered 'trendy' ten years ago, but by now it should be a necessity. Nature in buildings has many advantages in various areas. One of the most important: green creates a happy feeling, allowing people to focus and relax better. Biophilic design does require a vision; it is not as easy as just placing some random plants. It is about really looking for the connection between people and nature. It is the task of architects to make the connection between plants and systems in construction. Consider, for example, the application of living plant walls at important meeting places in a building, such as the entrance, reception area, canteen or meeting locations. In this blog we explain the benefits of biophilic design for architects and their clients.
Interested to know more about biophilic design and how to apply it into buildings? Read our blog: how can biophilic design be integrated into architecture.
Wat is the definition of a Green Wall?
A green wall is defined as vegetation growing on a vertical structure. To make this possible, a system with soil, rock wool or water is needed that promotes plant growth. A green wall is pre-grown, which means that it immediately produces the desired green result upon installation. Green walls can be applied to the interior as well as to the exterior of a building. An indoor living wall literally brings nature inside. With that, many advantages arise for residents, employees and the owner of a building.
Why architects should implement biophilic design and indoor green walls 
1. It makes the building more healthy and comfortable for its residents
One of the main reasons is to improve human health, well-being and happiness. It has been proven that green interior walls lower blood pressure, reduce stress and people suffer less from depression. This provides a restorative effect on our mental and physical well-being. In buildings with poor air circulation, living plant walls improve the quality of life of people who live or work there. Plants absorb harmful particles such as CO2 and particulate matter from the air and convert this into oxygen. Green architecture not only has positive effects on the living or working environment. Biophilic design is also an innovative way of connecting people with nature in hospitals and schools. Patients heal faster in a green environment and students achieve higher test scores in school.
2.Indoor green walls can make a room appear larger and more open
What are the benefits of applying a living interior wall instead of an exterior wall? When using vertical greenery in the interior design, the space appears visually larger than it actually is. Applying a green wall in small spaces is also possible, because it does not take up much floor space. The greenery provides a spacious and luxurious feeling. Because the plant wall covers the entire wall from floor to ceiling, the space does not only seem larger, but also higher. Good reasons for architects to convince their customers of the added value of an indoor living wall in small spaces.
3. It adds privacy and makes the interior beautiful
Another great advantage is that interior green walls create a natural sense of privacy. They dampen sound and can be used as a room divider. This way a green wall can create a pleasant and relaxing environment. During renovation, many architects and homeowners are convinced that a plant wall makes the room more attractive. The natural appearance gives the interior of the home or office a real 'boost'.
4. It improves productivity
Research shows that employees who work in green spaces are more creative and productive. Applying a lush green wall to offices ensure more efficient work and more concentration. In addition, the quality of the work delivered by employees is also higher. Research from Cardiff University shows that a green workplace can result in a 15% increase in productivity.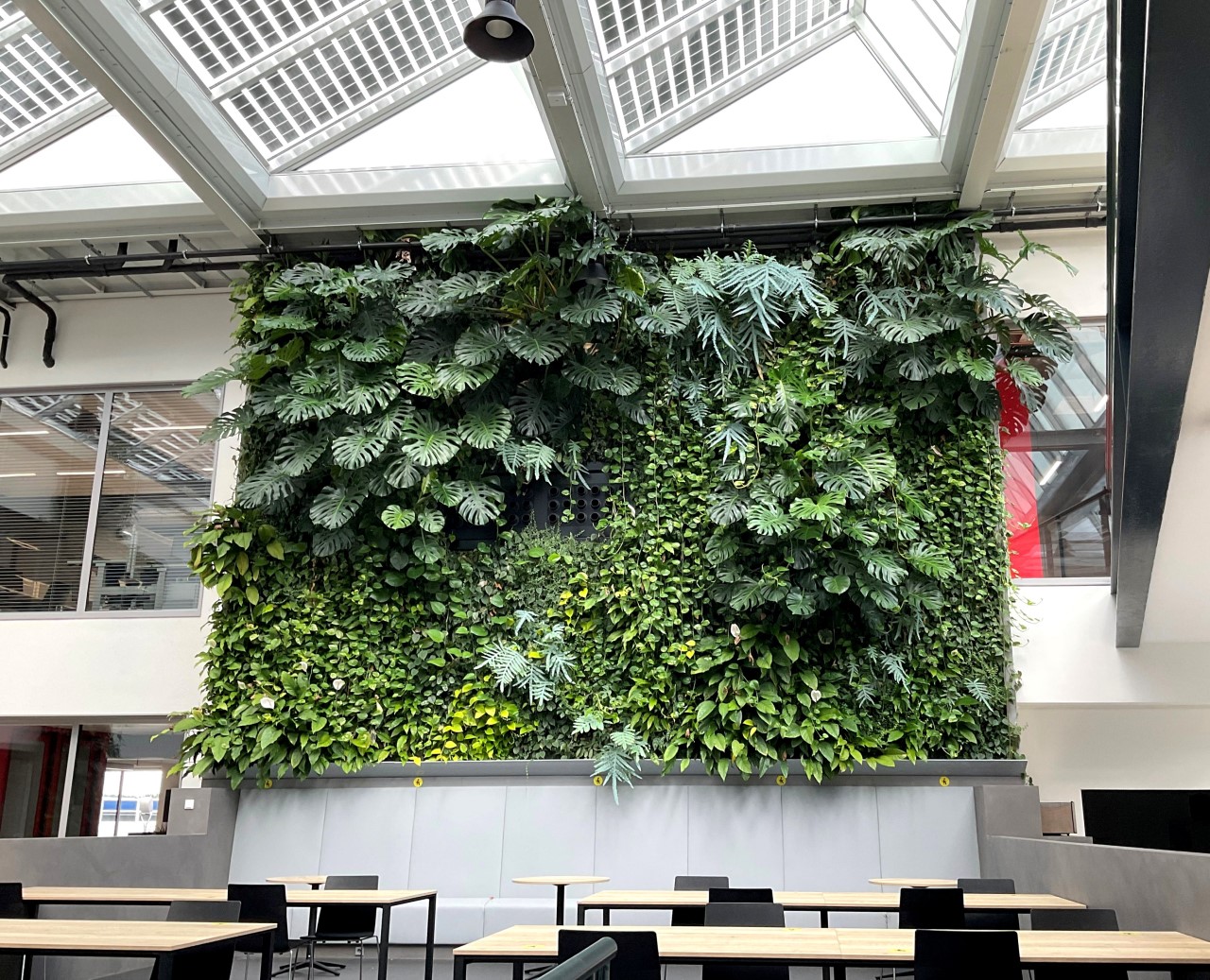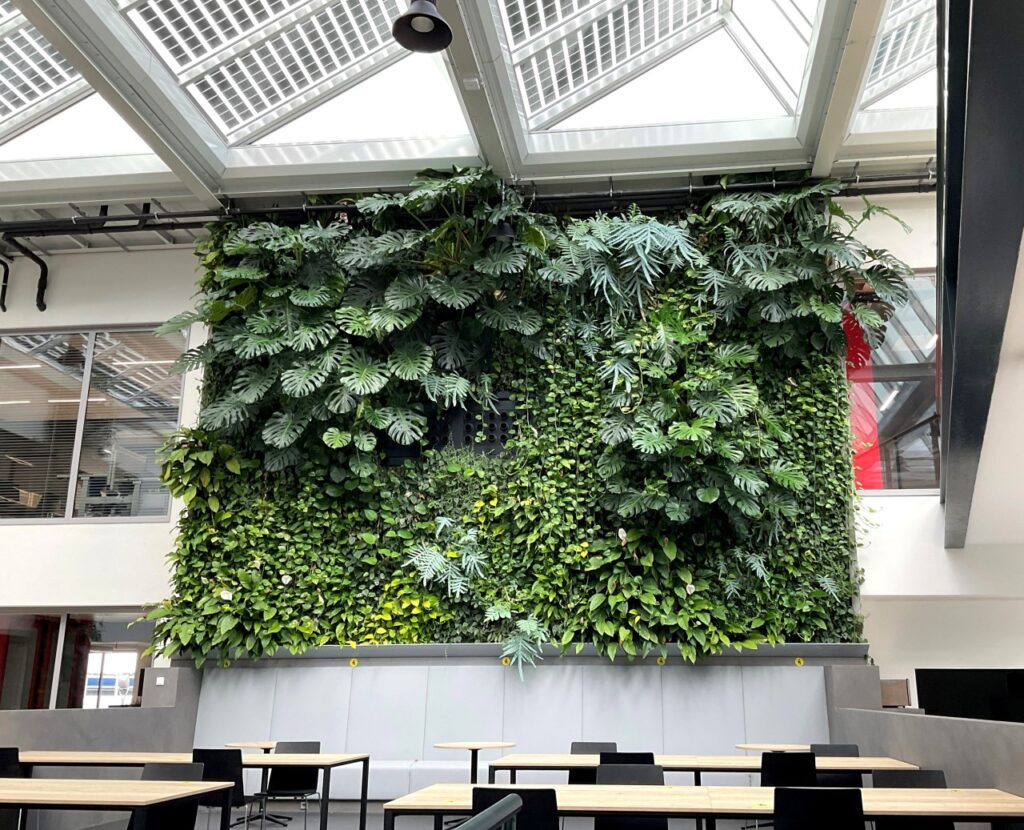 5. It reduces employee absenteeism and costs
In addition to improved health and happiness, biophilic design architecture also leads to better productivity rates, lower absent rates and costs per employee. The US Environmental Protection Agency says that about one-third of absenteeism due to illness is caused by poor air quality in buildings, and a study of an administrative office building at the University of Oregon showed that absenteeism can be reduced by 10% by greening indoor space.
According to The Economics of Biophilia, integrating views to nature into an office space can save over $2,000 per employee per year in office costs, whereas over $93 million could be saved annually in healthcare costs as a result of providing patients with views to nature.
6. It adds to LEED, BREAAM and Cradle to Cradle certification
For both new construction and existing buildings, a living wall can contribute to the BREEAM or LEED score; undeniably the most widely used sustainability certifications. As the certification depends on many factors, a uniform score cannot be given. The number of points obtained differs per project and is always considered in combination with a set of other measures. Some living wall systems, like the SemperGreenwall are certified as Cradle-to-Cradle product. LEED or BREEAM points can certainly be earned when using C2C-certified products.
Why not start with biophilic design today?
Are you an architect and not yet working with biophilic design? There is no better day than today to start. The application of greenery in building design, such as in the form of green walls, offers many advantages for the users of a building. In addition, building with greenery often yields points for LEED or BREEAM. Moreover, award-winning project designs are often green these days. Would you like to be inspired by other projects with living walls? Then take a look at our project portfolio.