Plants offer plenty of benefits for the office environment. They have a positive impact on the physical and mental wellbeing of employees. Plants improve air quality, reduce ambience sounds and reduce stress. Which directly results in a decreasing absenteeism and increase in employee productivity. In short: an investment in greenery at the office will pay itself back one way or another, for example in healthier, more satisfied coworkers. But how do you go about this? How do you ensure that the plants you're bringing onto the work floor, have the desired effect? In this article we'll be giving tips on how to maximize the plants' effect in some straightforward ways.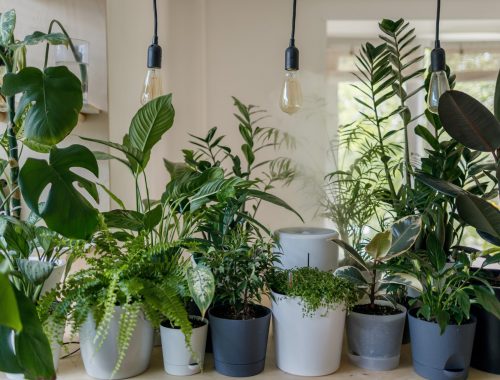 1. Incorporate individual plants onto the work floor
Would you like to start small? Simply buy a few plants and pots and place them around the office. Focus especially on spots where people congregate, like the meeting room(s), the reception and the cafeteria. Since plants decrease noise pollution, putting down a few plants in these locations is ideal. But don't forget the individual offices. The air-purifying qualities of plants create a healthier environment, which directly stimulates the ability to concentrate. The plants create a homely atmosphere, which can help to make employees more at ease.
In order to achieve the greatest acoustic effect possible, the plants are best placed around the walls and in the corners. At first, you may not find this as important, but the material of the pot does in fact matter. Go for containers made of wood or special acoustic containers, these provide more sound insulation than steel.1
Plants with big leaves are by the way better suited to decrease the reverberation of sound than small-leaved specimens2. The downside of loose pots is that, you're suffering a loss of floor space in return. Accidents happen, so there's also the risk of people accidentally knocking them over or having to replace the plants regularly, if they're not cared after with enough attention.
Ready to think bigger and have something spectacular? Then you should opt to implement a tree in the office. Placing a tree in the office gives a remarkable first impression, for example at the entrance of the building. Yet, you must have sufficient space and height available. Therefore an office tree is not applicable for every office, besides that, a tree takes up a lot of the available space as well. A more suitable option to place a tree would be a courtyard of the office. Research3 shows that even looking at a tree already makes an impact on your mental health. Although, that does not ensure the air-purification benefits in the building.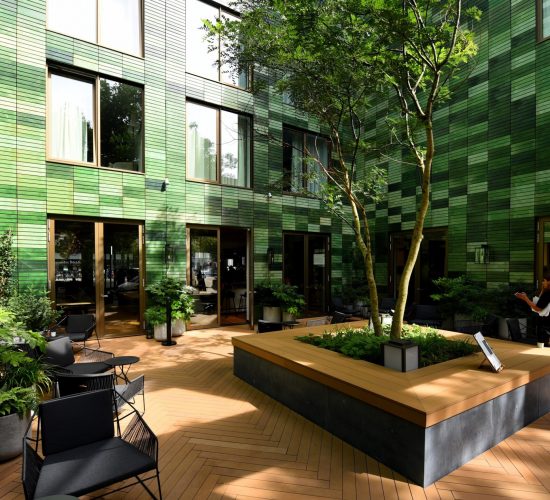 3. Achieve the biggest effect with a living (plant) wall
The best of both worlds: would you rather obtain the maximum visual effects, plus all the other benefits of green in combination with complete unburdening? Then, there's the option of a plant wall or green façade. These days, there are different types of plant walls available. When you're also looking for a room divider, a movable plant wall is a two-in-one solution. Another possible sophisticated option would be the indoor vertical green wall. This is a pre-planted modular system with a high degree of plant density, complete with an irrigation system, gutter/drain and framework. This type of green wall is ideal for all kinds of indoor spaces, like offices, museums, restaurants, shopping malls and showrooms. That's the case because they occupy little floor surface, while having a maximum effect in terms of air quality, noise reduction and employee productivity. What's more, they're a true eyecatcher for any space. Take a look at these examples:
When you're opting for installing a living wall, you'll usually combine this with a maintenance contract. This means that you have little to no work to do and your green wall will be taken care of and maintained throughout the year. So no worries, while you benefit from all the advantages of green in the workplace
Would you like to know more?
Is there anything else you'd like to know about the different living walls systems that Sempergreen offers? Click here.