One of the most frequently asked questions we get from people who want to apply for a green facade is: what does a living wall cost? The answer to that question cannot be summed up in one sentence. A living plant wall is a unique type of cladding. Therefore, the price always depends on the complexity of the project. This article will give you some insight into the price structure for a green wall in Europe, and which factors influence the price the most, and how you can take them into account in the design. We'll also give a price indication based on four example projects.
An offer without surprises
When investing in a SemperGreenwall, the project is always supervised from A to Z. A driven team of project managers, technical draftsmen, plant engineers and in-house installers take care of each project. This means that you always receive a complete offer from Sempergreen. From materials and technology, to transport and labour. It sometimes happens that other websites don't include installation, transport and maintenance in the offer. In cases like these, please be aware of the high additional costs that still need to be added to the project. When requesting a quote for a SemperGreenwall, you'll never be surprised. Read more about our work method here.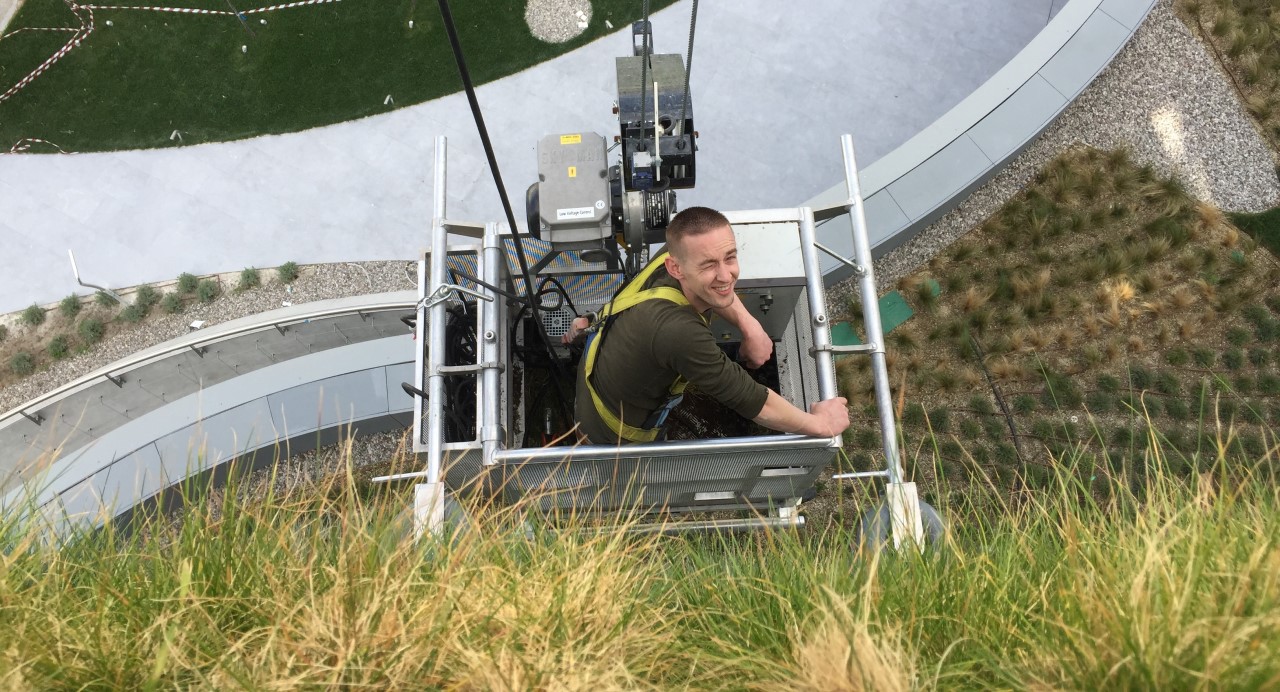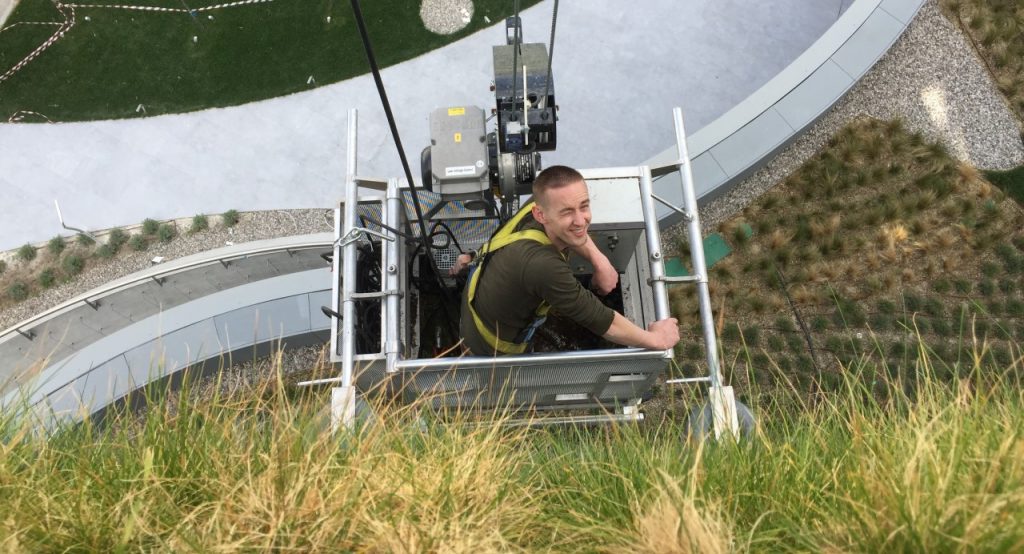 A green facade is an investment that pays off quickly. Why? Read more about the return on investment and tax benefits here.
The technology behind the green facade is an advanced irrigation system called the Plant Care System. You can think of the Plant Care System as the beating heart of the SemperGreenwall that keep the plants alive. It provides them with the right amount of water and nutrition. This system is crucial for your living wall. Whether it is a wall of 20 or 200 square metres, the irrigation system is always needed. So, in general, the larger the area, the lower the price per square metre.
Flexipanels have a standard size of 52×62 cm. It wouldn't be called the Flexipanel if it couldn't be flexibly shaped, so any size is possible. The choice between 1 metre wide or 1.20 metres wide does affect the total investment. If the wall can be built with standard panels, less customisation is needed. From drawing, production, installation to maintenance; realising a living wall is a craft.
Accessibility is another important aspect. Firstly, there is the accessibility of the location. Take a project in the city centre of Amsterdam, for instance, that cannot be reached with a large truck. Unloading will then have to be done in small quantities. This affects the number of transports needed.
Another issue is the accessibility of the façade or wall during the installation process. Depending on the height of the project, building a scaffold or using an aerial platform must be taken into account. If it doesn't fit and a special structure has to be built to access the wall space, this will require (another) investment. And, when working at height, the necessary safety measures must always be taken.
Accessibility is important not only during installation, but also for maintenance of the green facade. During construction and installation, the site can be easily accessible (often in new construction plans). But when the space changes afterwards, for example because it is now dressed, it is important that the green wall is still accessible. For example, a system can be installed where maintenance workers can maintain the wall while abseiling. A good example of this is Rope access.
Did you know you can save on the material for the outer wall  because the SemperGreenwall can also be mounted directly on insulation? This is because the back of the Flexipanel is water-repellent. Another money saver!
Distance between the technical room and the green wall
The Plant Care System of the SemperGreenwall requires a technical room. This contains the water and nutrient tank. The water and nutrients are fed to the wall by a pump. The shorter the distance between the technical room and the SemperGreenwall, the less power is required to pump the water to the living wall. A green facade facing different solar orientations (North-East-South-West) will require a more elaborate irrigation system.
Any shape or design is possible, nothing is too crazy. Depending on the (investment) requirements, this can all be worked out by our professionals. A continuous surface is less complex than when working around windows or when a special shape is desired. We are always happy to think along with you to find a suitable solution within your budget to achieve the desired effect.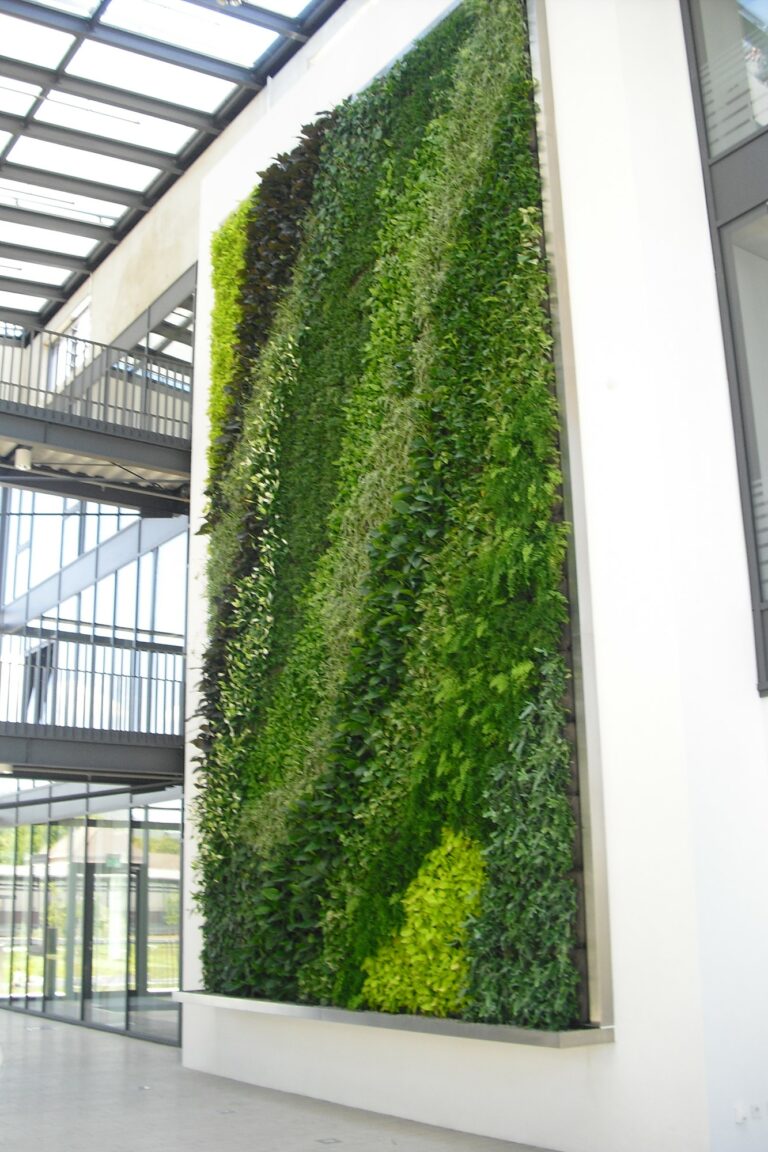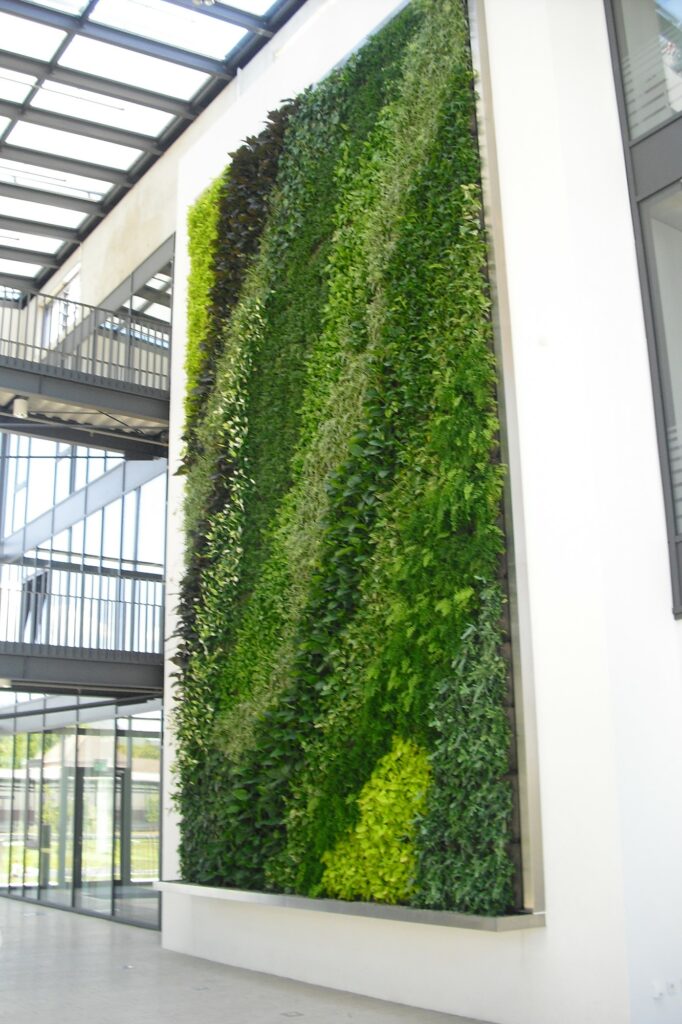 In general, we can say that an outdoor green facade involves a lower investment per sqm than an indoor one. One reason for this is the price of the plants. After all, indoor plants are more expensive than outdoor plants. Also, these panels are pre-cultivated in a warm greenhouse, so the production price is higher. We often see that indoor green walls are smaller than outdoor ones, which influences the price per sqm, as a bigger wall is cheaper per sqm. In addition, outdoor plants naturally receive a lot of light. When applying an indoor plant wall, plant lighting is almost always required. Read more about this in our white paper: 'The importance of good lighting for a green wall'.
Special planting requirements
You can choose from our standard assorted plant ranges. These offer plenty of options for different wall orientations. For exterior walls, we determine which standard assortment is suitable based on shade or sun side. So if you want a beautiful designer wall like the one shown here, you can! The plants will then be ordered separately for your unique wall and planted according to a planting plan.
Now that you know more about the price structure of a SemperGreenwall, you'll probably want to know more concretely what price to consider for your project. In general, we can say that the starting price for a living wall is €550 per sqm. For an even better price indication, we provide more concrete information based on four example projects on what the current price (February 2023) would be.
Let's start with an Outdoor SemperGreenwall project. Our office has about 100 sqm of beautiful plants around the windows. The wall also wraps around the corner a bit, so custom-made corner panels were needed. For walls like this, expect a price between €650 and €850 per sqm.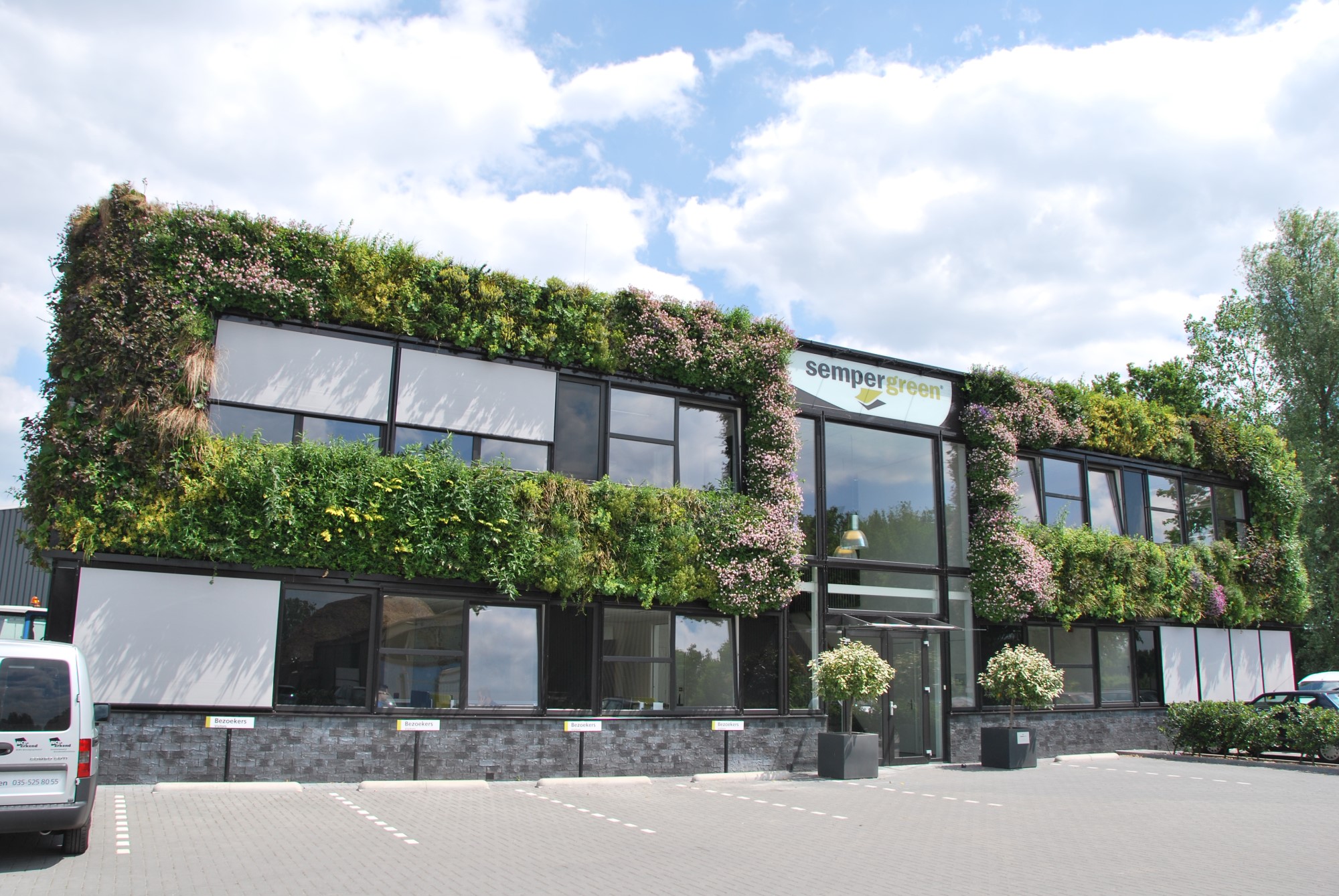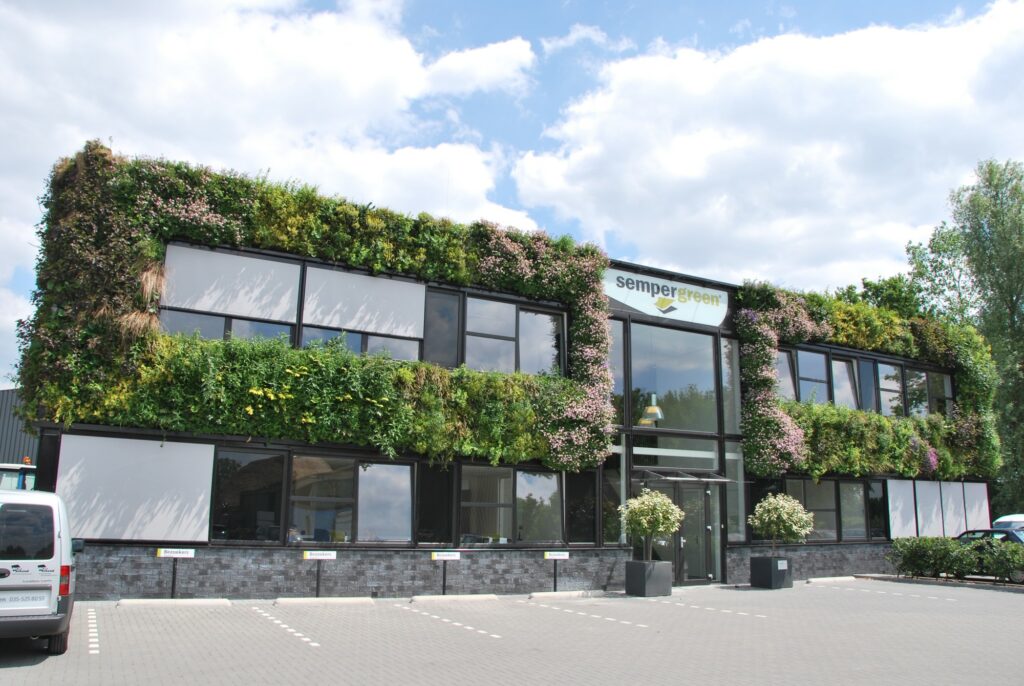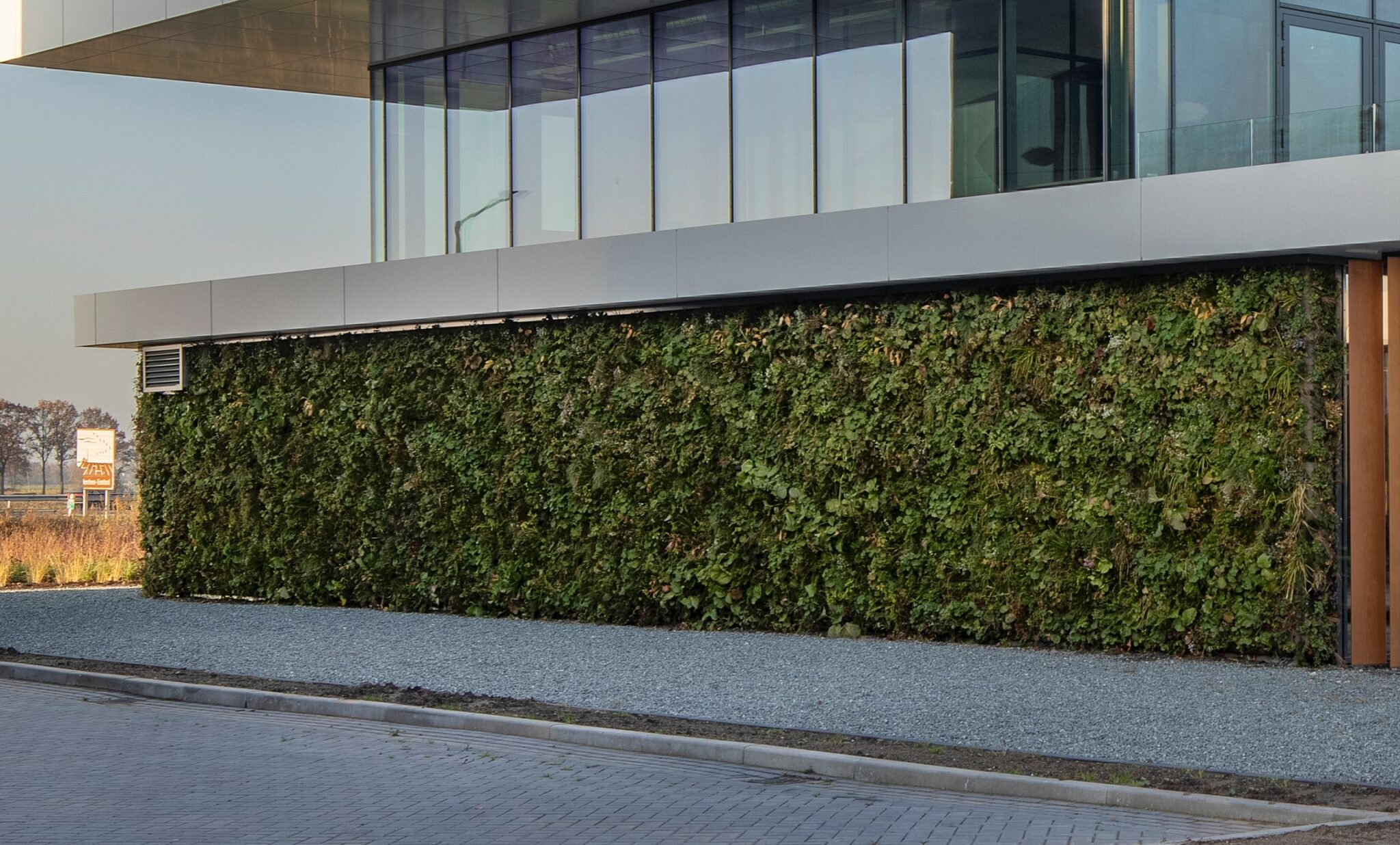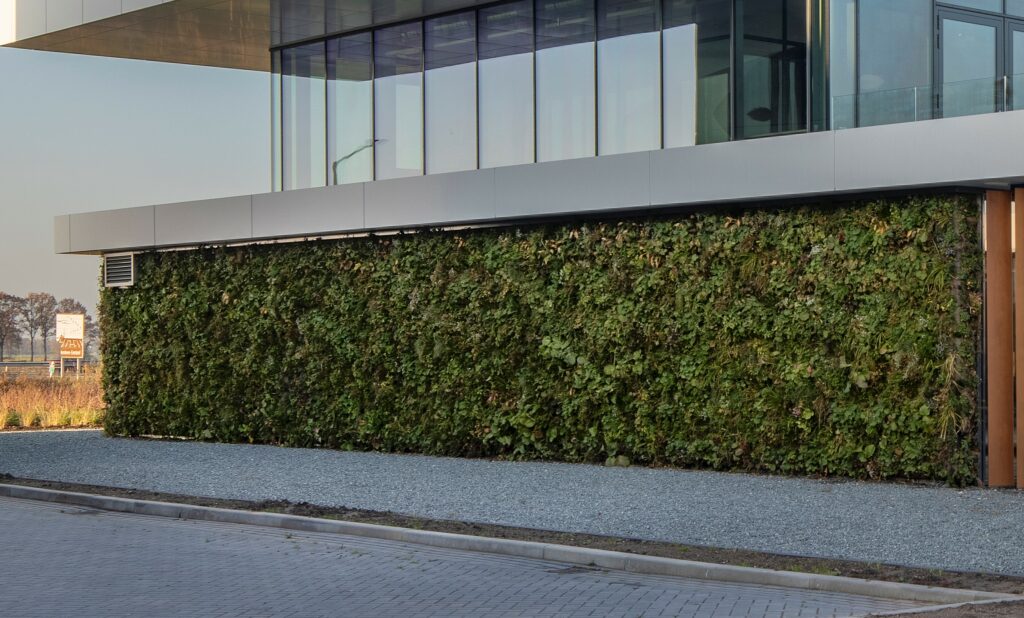 If we look at the next 25 sqm exterior wall, you can see that the number of square metres has a very big impact on the price. Even though a standard plant assortment was used here, it is an ideal working height and only a short distance from the technical area. For a wall like this, the price is between €800 and €1,000 per sqm. If we imagine expanding this example to 42 metres wide and 6.5 metres high, you arrive at 273 sqm. You would then come out at a price between €400 and €550 per sqm.
The next example is this Indoor SemperGreenwall of 40 sqm. For an indoor wall, this is a fairly spacious area. Also, the height here is favourable and it is one continuous piece. For a green wall like this, the price is generally between €750 and €950 per sqm.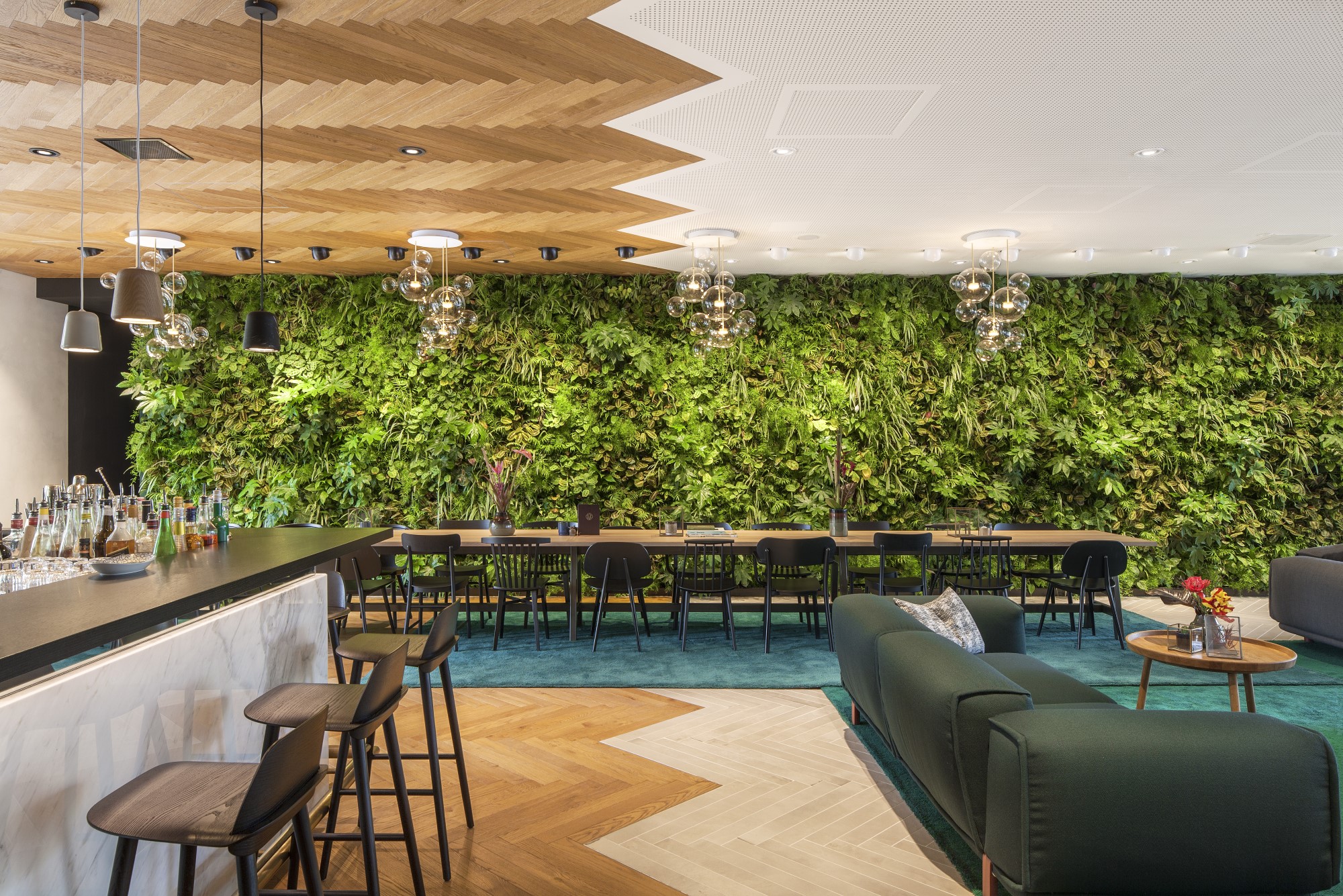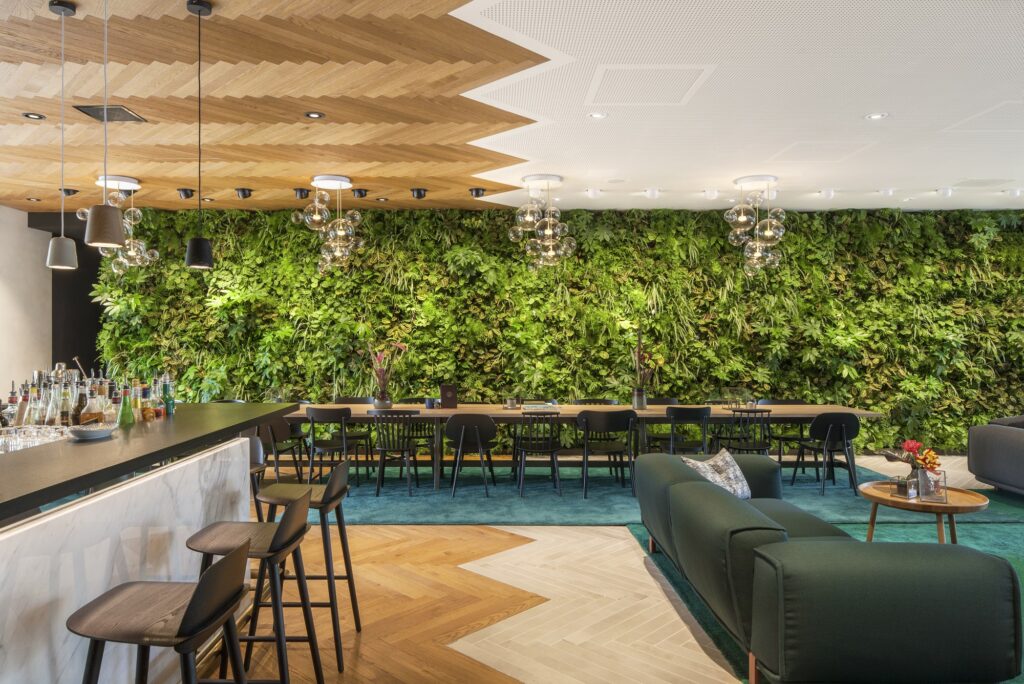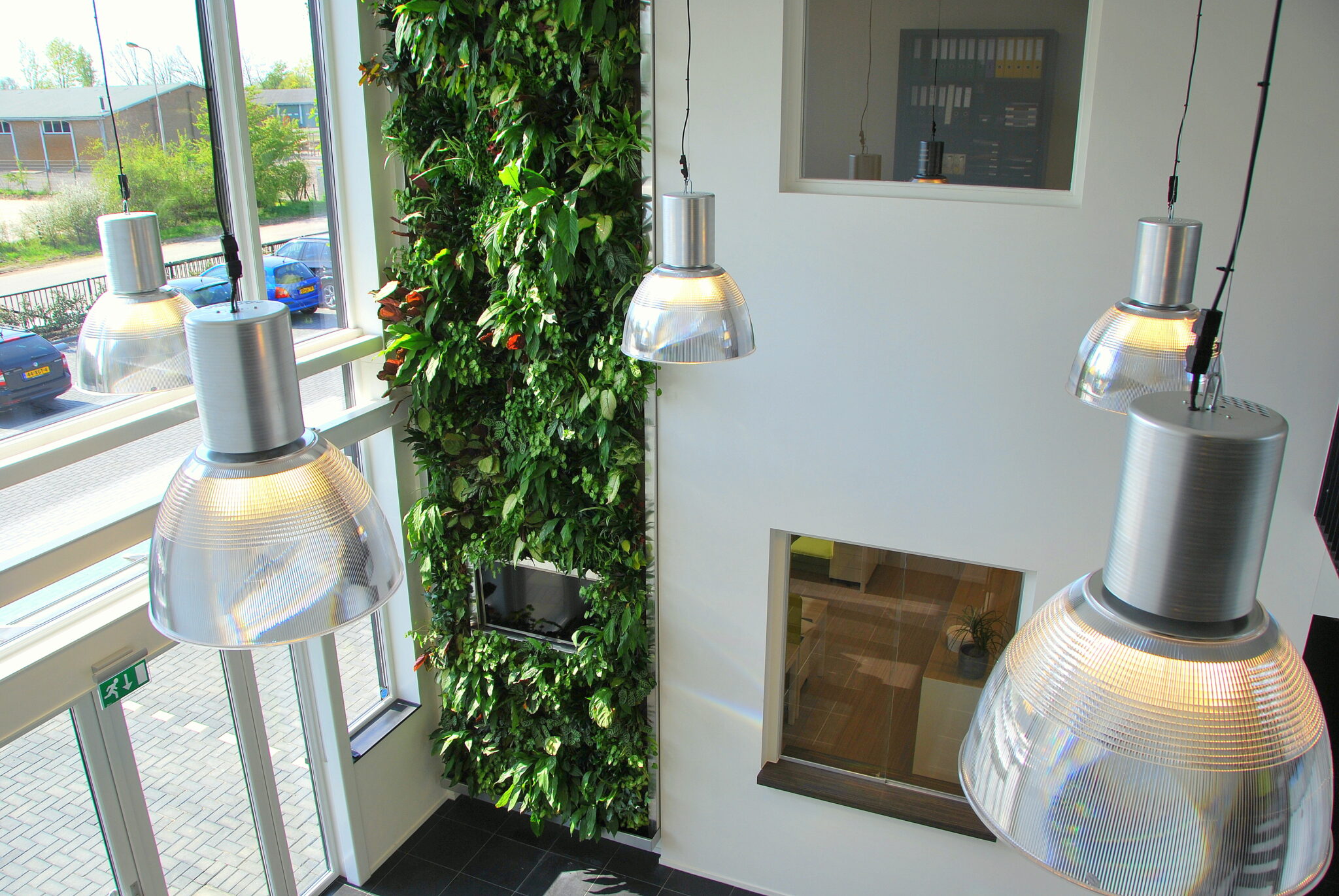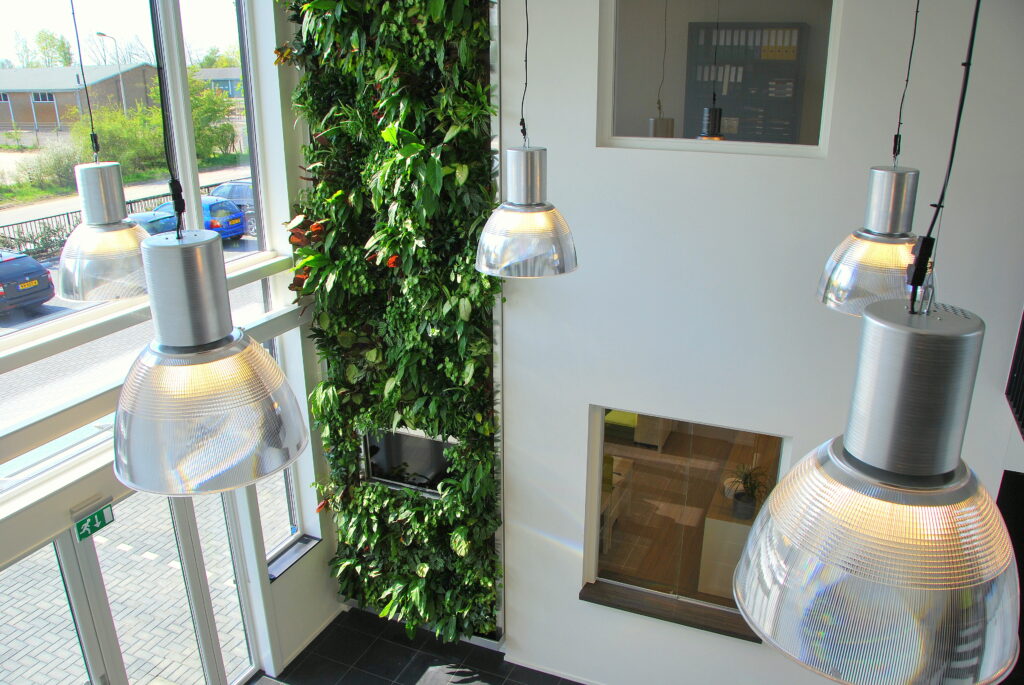 Finally, this Indoor SemperGreenwall of 11 sqm.  What makes this project special is that the wall incorporates a TV screen. There is extra edging around this. The wall has a small surface area, though it is high. The irrigation system is therefore more elaborate because the water and nutrients have to be pumped up from the ground floor. For this type of wall, it's therefore good to consider €1700 to €1900 per sqm.
The SemperGreenwall is developed according to the needs of the plant. Because of our nursery history, we want to provide plants with optimal growing conditions. We go for quality and long-lasting beautiful results. Because we use Flexipanels, which we developed ourselves, the roots of the plants can continue to grow freely. Our green walls usually have a low substitution rate, under 5%.
Our SemperGreenwalls are pre-cultivated in our own greenhouses and always covered for at least 90% at the time of installation. Another common solution for greening a wall is to install climbing plants. These are certainly cheaper to purchase than the SemperGreenwall. However, the big difference here is that climbing plants take at least 5-10 years to achieve the desired result. The effect you create with these cannot be compared to a fully grown SemperGreenwall.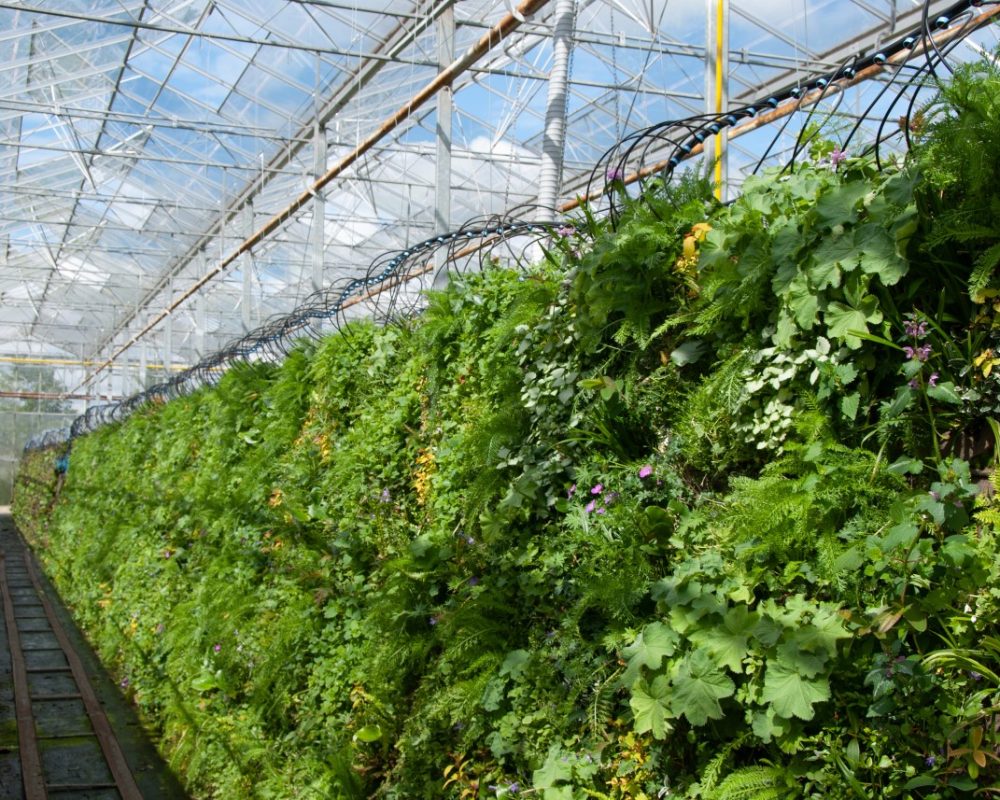 Why invest in a living wall?
That, of course, remains the key question. Besides looking aesthetically beautiful, it is a proven investment that pays for itself quickly! This is partly because:
the value of a building with greenery is between 4 and 12% higher than a building without. So you could charge more rent, for example.
the property value of a house in a green environment is 30% higher.
shops turn over 12% more on average.
green walls absorb CO2 and fine particles, and provide oxygen.
people experience less stress, resulting in significantly lower absence rate in the workplace. An average of 1.6 sick days per employee per year.
10 per cent more greenery in the living environment yields potential savings of 65 million on healthcare costs.
the air conditioning does not have to work as hard because greenery cools.
More and more governments offer subsidy schemes or tax benefits for the application of a green facade.
In short, investing in green buildings is good for the wallet ánd for the climate!
May we make you a tailor-made offer?
Based on the examples discussed above, it is possible to roughly estimate what a living wall would cost for your project. We would be happy to prepare a customised estimate for your project. We will take into account your requirements and the factors involved. Please fill in our quotation form or contact us at quoterequest@sempergreen.com.