Green is very important in the built environment, because it provides many climate and health benefits. However, the application of a living wall on or in a building is not yet self-evident. Green is often a closing item in the budget. When budget starts getting tight in the last phase of a construction project, the green is then removed from the plan. An unwise decision, because a green wall actually generates money! In this blog we explain why a green facade is an investment that quickly pays for itself.
A vertical garden, green facade or plant wall is a wall or part of a wall overgrown with various plants. Vertical gardens are used both indoors and outdoors. A living wall is a sustainable solution that has many other advantages in addition to economic value. The plants in the green facade lower the ambient temperature, reduce ambient noise and purify the air. An indoor green facade creates a healthy indoor environment and reduces noise pollution.
The economic benefits of a green wall
What does an investment in a green wall yield financially? We list the economic benefits below.
1. Increase in property value
The economic value of a building with a green appearance is between 4 and 12% higher than that of a building without sustainable applications. This is directly measurable in the sales prices and property values of homes surrounded by green elements. These prices are sometimes even up to 30% higher.
2. A shop with a green storefront generates higher store turnover
Green attracts people. They prefer to be in a green environment. In shopping streets, a causal relationship can be established between the presence of greenery and the turnover of the store. Because people naturally stay longer in a green environment, turnover in shops with a green appearance increases by 12%. Customers are also willing to pay more for a product. Green facades are a real attraction in the shopping area. A good example is the sports and lifestyle chain Perry Sport. A vertical living wall is also an ideal solution for creating more greenery on the limited and expensive square meters in a shopping street. The green wall takes up little space, so that the retail space can be optimally used to immediately generate more turnover.
3. Increased efficiency in hospitals reduces healthcare costs
A green wall in healthcare institutions can yield many healthcare benefits. A green environment has a positive influence on the physical and mental health of patients. This phenomenon is also known as a 'healing environment'. Scientific research shows that patients use up to 30% less painkillers if they stay in a greener environment1. Another study shows that patients who have a view of a green area from their hospital room, stay in hospital 1 day shorter on average2. By using less medication and a shorter length of stay, healthcare institutions are able to work more efficiently, which significantly reduces healthcare costs. A living wall can be applied in many ways in a healthcare institution, such as at the entrance, but also on the various wings or even in the treatment rooms. A good example of this is the OncoCubus radiation center in Recklinghausen, Germany.
4. Healthy workplace leads to higher productivity
A living wall promotes a healthy indoor climate. In the workplace, this translates into a better well-being of employees. For example, a green wall attenuates various ambient noises, allowing employees to concentrate better3. The view of greenery also means that employees make fewer mistakes in their work4. Because the plants in the green facade ensure a stable humidity in the interior space, complaints such as irritated eyes, headache, dry throat and fatigue are reduced. Even absenteeism due to illness decreases when applying greenery in the workplace. Better concentration, fewer errors and lower absenteeism contribute to higher productivity. Ultimately, the investment in a living wall at the office leads to a higher profitability for the company.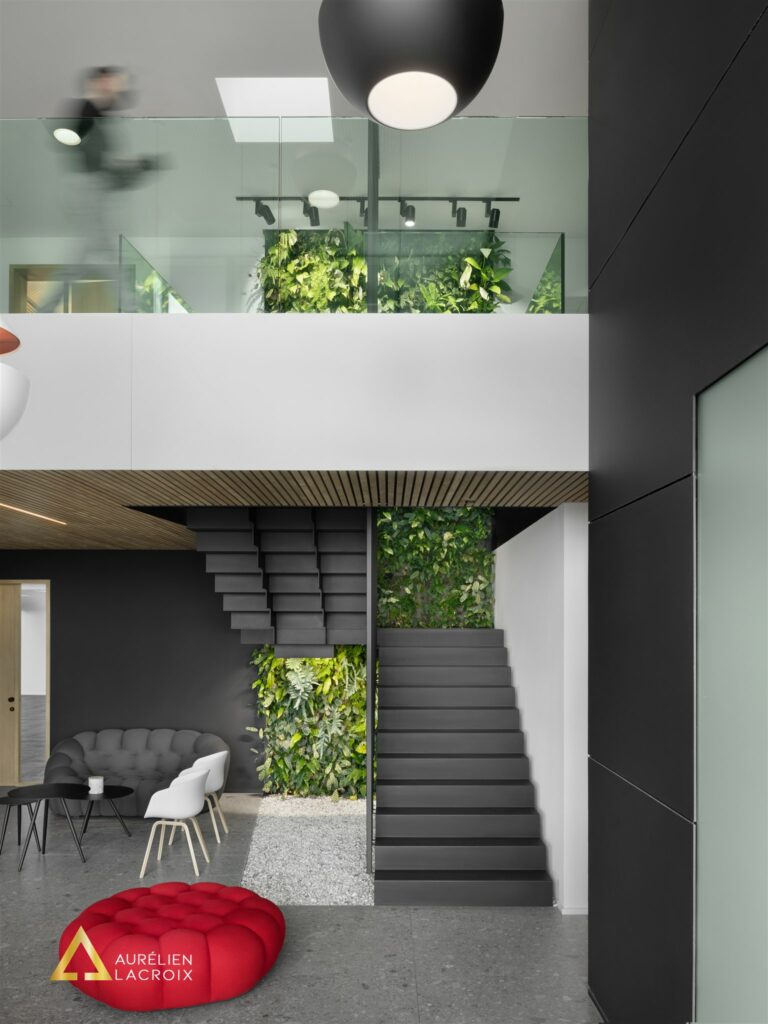 5. Reduced air conditioning costs
Due to climate change, the use of air conditioning in buildings is increasing exponentially. Air conditioners consume a relatively large amount of power, even 15 times as much power as a fan. The application of a green wall on the outside or inside of a building ensures a lower temperature in the building, so that the air conditioning does not have to work as hard. By investing in a living wall, energy costs are reduced by 8%. 5
6. Green walls receive subsidies and tax benefits
An investment in a green facade can be earned back not only after completion. Prior to the installation of a green facade, there are various options for applying for subsidies or tax benefits. More and more municipalities, districts, counties and water boards are granting subsidies for the construction of a green wall. In addition, governments offer tax advantages when investing in a green facade on the inside or outside of a commercial building. Please inform with your local authorities about the available subsidies and tax benefits in your region.
Investing in a living wall leads to return on investment!
It is a missed opportunity that initiatives for sustainable applications such as living walls regularly fail in the budget discussion. It is a wrongly assumed, that an investment in greenery does not yield a return on investment. There is also a lack of knowledge about available subsidies or tax benefits. The summary in this blog shows that economic benefits can be achieved on many fronts with the implementation of a green facade. In the short term, an investment in a green wall will pay for itself financially, for companies, consumers and governments alike. Would you like to know how your building can be embellished with a living wall? Please let one of our living wall specialists inform you without obligation, they will be happy to help you.