Did you know that it is possible to mount a SemperGreenwall on virtually any wall? Whether it's stone, wood, sandwich panels or other insulation materials, our living walls fit seamlessly onto it. We already have a lot of experience with different ways of mounting, the only condition being that the wall must be able to support 45 kg/m². In existing buildings, the wall is usually already fitted with bricks, wood or other board material. Besides this material, in new construction projects you can also opt for mounting the green wall directly on the insulation layer. This saves wall finishing and unnecessary material. It is also possible to mount the SemperGreenwall on sandwich panels. In this article we explain which materials the SemperGreenwall can be mounted on and how this works.
Standard mounting on wood or stone
Generally, a SemperGreenwall is installed on wooden or stone walls. These are the more 'standard' rear walls, so the standard installation is also used in this situation. Here, we start by fixing the edge finishing to the back wall: the gutter, side, corner and top profiles. Then the Omega and Z-profiles are fixed vertically to the back wall. The next step is to attach the Flexipanels, which are already completely pre-fabricated, to them. These profiles are fastened 62cm apart, the width of the Flexipanel.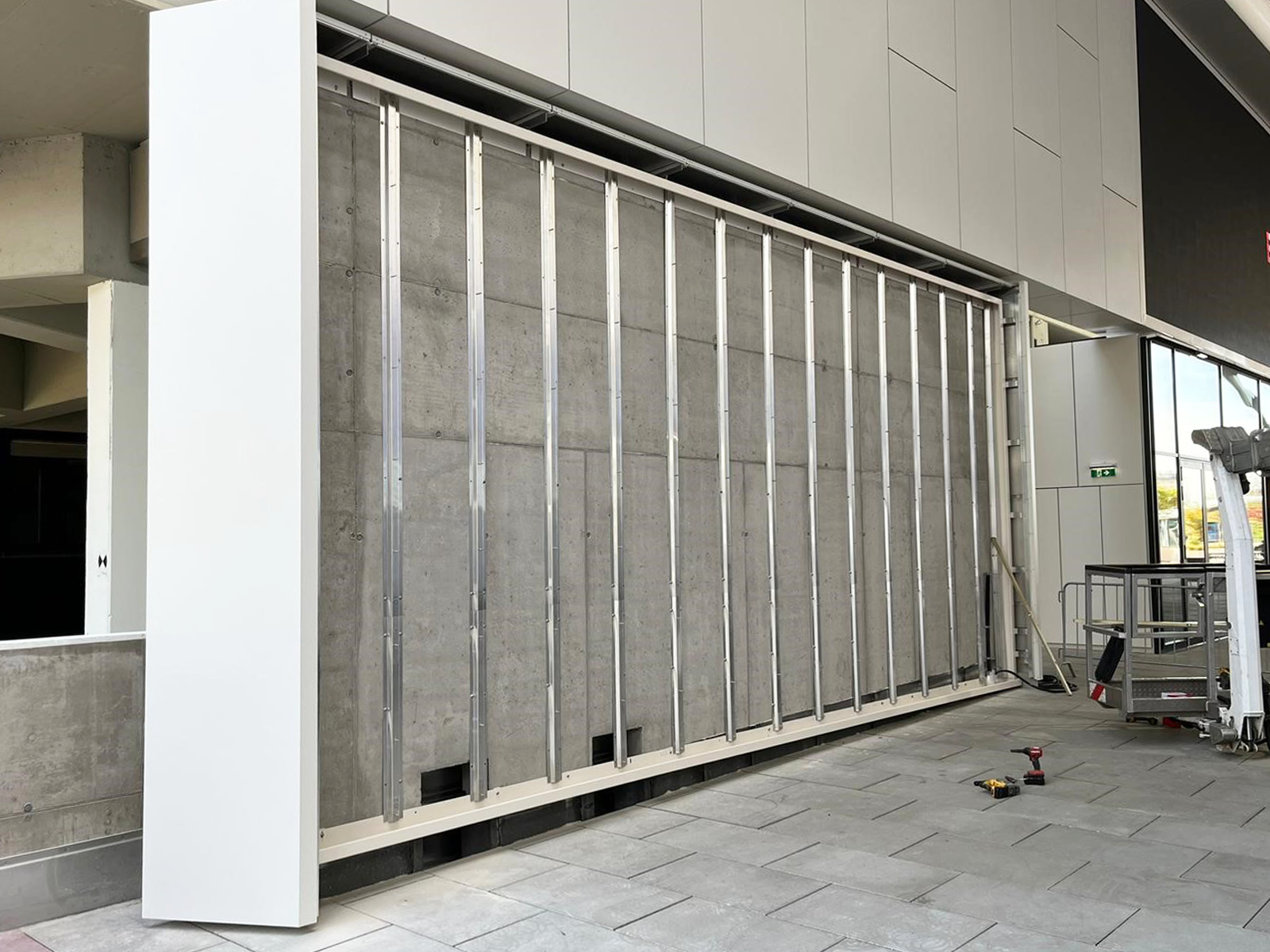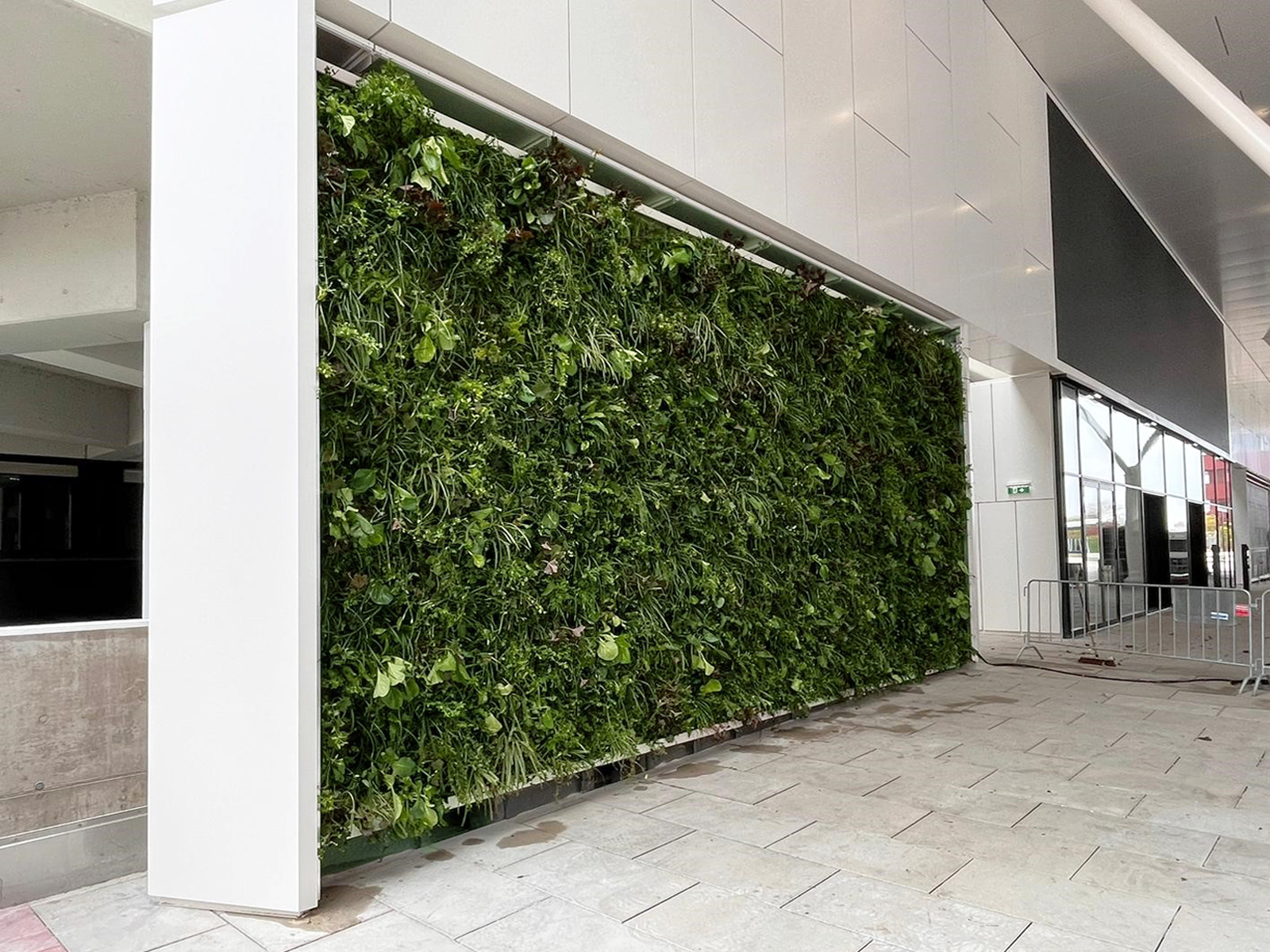 Green facade assembly on insulation
Because the Flexipanels have a TPO (Thermoplastic Polyolefin) backing and the back of the panels overlap, they are fully watertight and root-resistant. This means that the wall does not need to be waterproofed first and roots do not affect the wall. This is ideal for special construction on insulation, as it allows the SemperGreenwall to be used as a complete outer shell. This means that no additional cladding needs to be placed between the insulation material and the SemperGreenwall.
Constructing a SemperGreenwall directly on soft insulation
A SemperGreenwall can be applied to both hard and soft insulation. Installation on soft insulation is done with spacers, which are fixed to the wall on one side, while the Flexipanels are installed on the other side.
Insulating effect is retained
Of course, the aim is to maintain the insulating effect of the insulation material. This is why the metal profiles are interrupted by a plastic centre piece. Plastic does not conduct cold or heat. Cold air from outside is therefore not conducted inside and heat cannot escape to the outside. This prevents a thermal bridge and keeps the energy in the building.
Living wall directly mounted on rigid insulation boards
The SemperGreenwall can also be mounted on hard insulation boards. In this case, it's mounted on the back wall with long screws through the insulation. No spacers are required for this assembly.
Save on labour and material costs
In new construction projects and renovations where the wall finish cannot be reused, it's cost-saving to mount the SemperGreenwall directly on top of the insulation. In this case, it saves on material costs, as there is no need to apply an additional layer, such as bricks. And this in turn saves manpower and labour costs.
Technical drawings
Curious to know what a mounting on insulation material looks like? Download the technical drawings for a SemperGreenwall attached to rear wall insulation below. These are general drawings and because we want to make sure everything is 100% correct, we always draw the project to size when a SemperGreenwall is purchased.
In practice: Kranenburg shopping centre project
The fact that everything is calculated and assembled to size is evident in the SemperGreenwall project in Kranenburg shopping centre, Germany. In the method used here, a spacer structure made of aluminium was first attached to a plain concrete facade. The Flexipanels with irrigation pipe were then attached to this. The result: a beautifully green facade, using as little material as possible.
Project in collaboration with HPM Fassadentechniek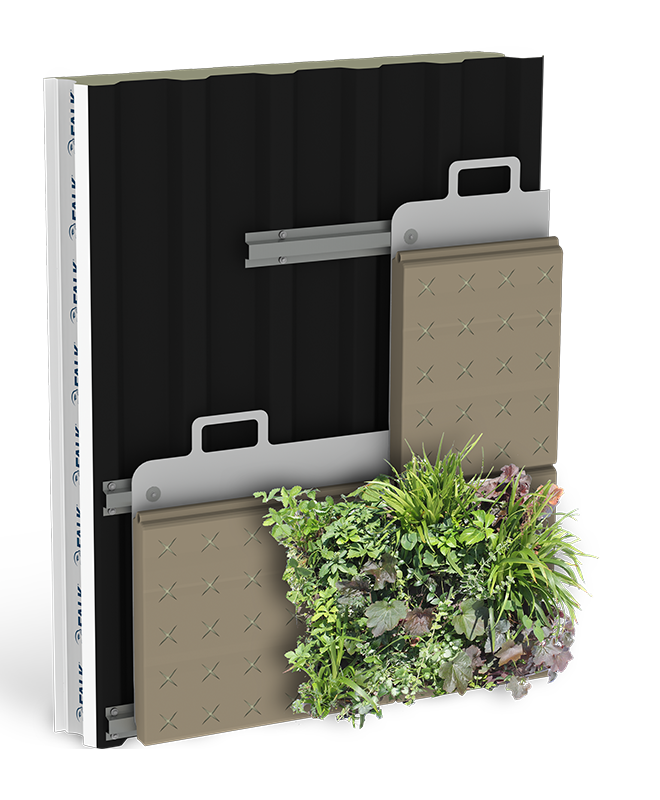 Circular synergy through mounting on FALK sandwich panels
Circular construction still remains an abstract concept for many parties in the construction industry. To facilitate the transition to circular construction, Sempergreen and FALK Bouwsystemen have teamed up. Therefore, among other things, it is possible to combine the Cradle to Cradle-certified SemperGreenwalls with the circular sandwich panels of FALK Bouwsystemen. This combination helps to achieve BREEAM and LEED points for a project.
Unlike a wooden or stone back wall, in some sandwich panels the omega profiles are fixed horizontally instead of vertically (see 3D image below).
Not every green wall system can simply be attached to every sandwich panel, for example due to the maximum load-bearing weight they are able to support. Because the SemperGreenwall uses rock wool as a growing medium for the plants instead of soil, it is a lightweight solution that can be mounted on most sandwich panels. Of course, a project-specific calculation is always made, to be sure of the load-bearing weight.
Creativity and tailor-made solution
Besides using different background materials, there are other ways to get creative when designing a SemperGreenwall. This is because the SemperGreenwall can be attached not only to flat walls but also to curved surfaces. This is due to the flexibility of the material the Flexipanels are made of. See for example this pump house in Sweden or the reception area of BMW Group in Dingolfing Germany.
In short, the possibilities with a SemperGreenwall are endless. Wondering how you can brighten up your project with a SemperGreenwall? Contact our experts, they will be happy to help!