Many business parks are not attractive places to spend your time. Lots of grey, but no green. All the concrete, asphalt and stone in these locations is not only unsightly, they're also places where the negative impacts of climate change will be deeply felt. These areas are at high risk for a strong 'urban heat island' effect1 and issues due to extreme rainfall. For example, the 3,000 business parks in The Netherlands cover around 30% of the country's total built-up area.² Only 1 percent of these areas include elements that can be classified as 'natural'!³ In industrial areas and office parks, there's lots of room for improvement in terms of greenery and climate adaptive measures.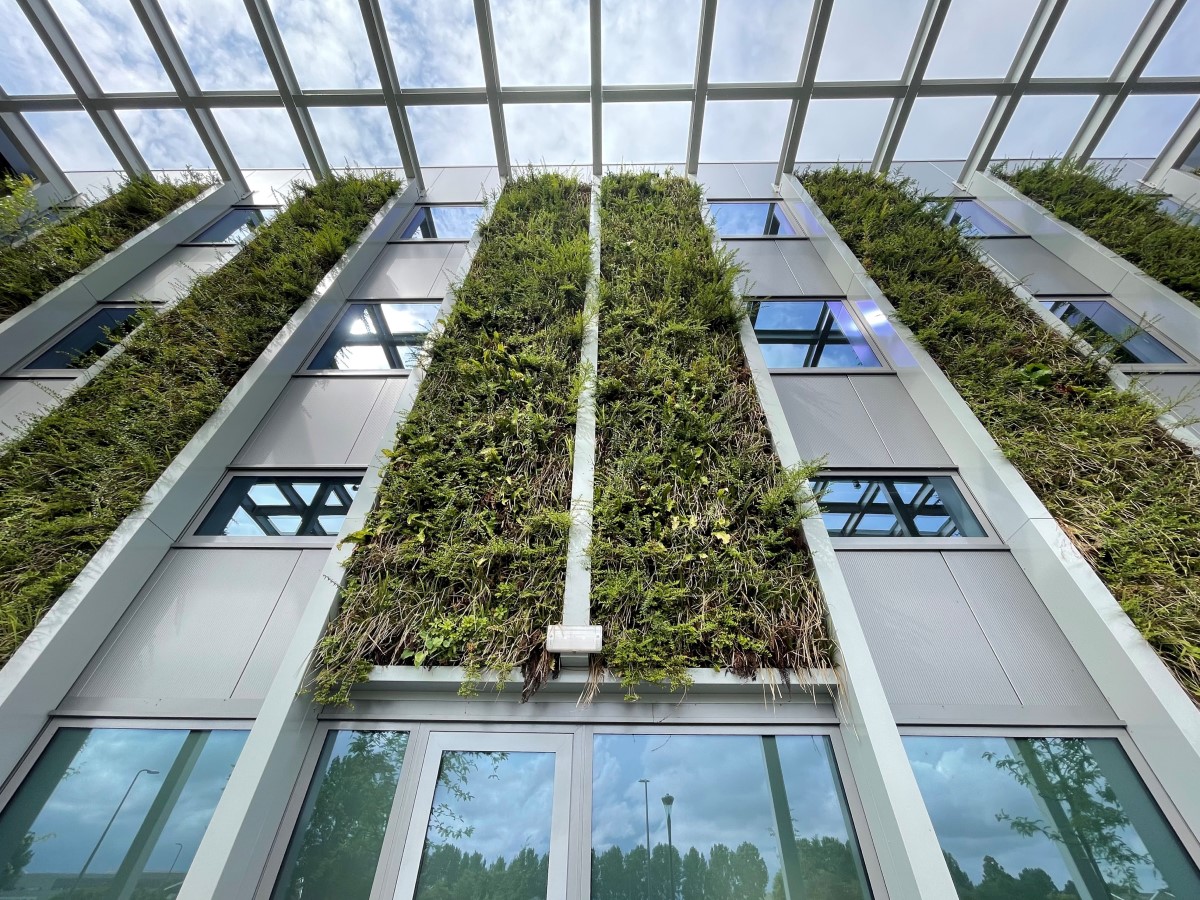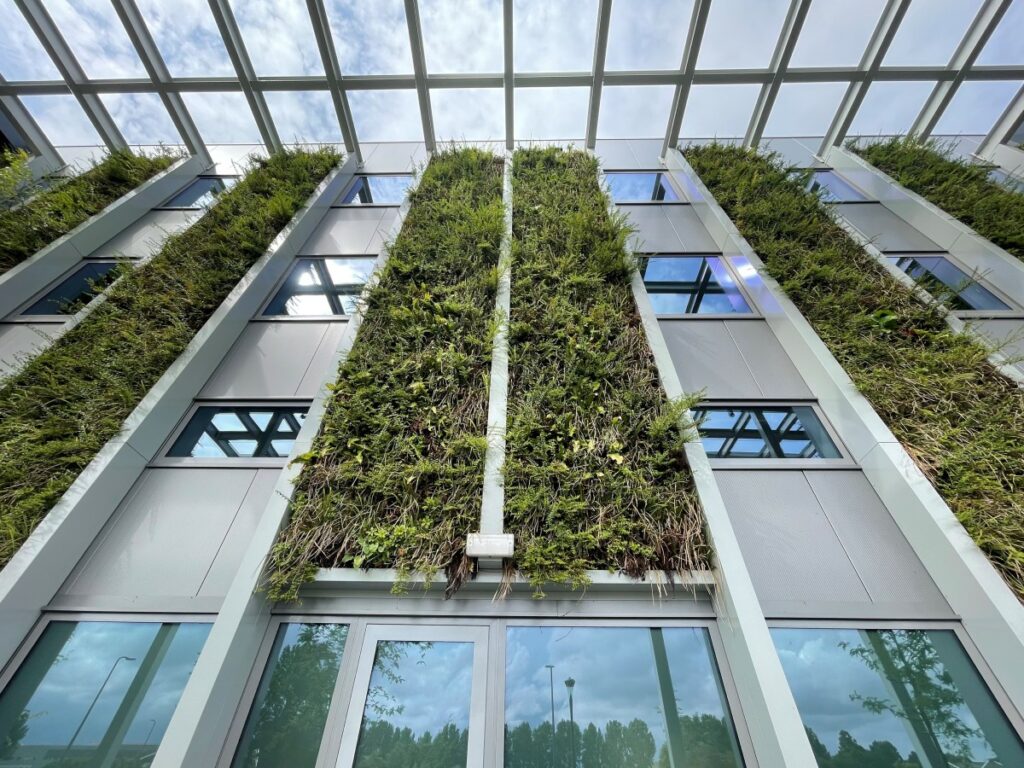 The biggest issue in business parks are the large quantities of unnatural, impenetrable surfaces like concrete and asphalt. When rain falls on asphalt, tiles and bricks, it's not absorbed into the ground. Increasingly often, we'll have to handle heavy rains that the old sewer systems are not designed for. This can create flooding and consequential damages. Furthermore, these hard surfaces can create more heat stress. They absorb more heat from the sun than planted areas4, and turn the business park into a heat island. In turn, more air conditioning is used and energy consumption increases. Employees also don't benefit from working in a hot environment – quite the opposite! They might get headaches or overheat. Logically, wildlife also tends to avoid these areas. Not only is biodiversity a lot lower in industrial and business parks, they also cut off birds' and insects' flight routes to parks and green areas in the city centre.
The future of business parks
Despite the facts that many business parks aren't ideal working environments, lots of employers and thus jobs are situated there. Thus, the time to turn them into climate adaptive and healthy working environments is now!
The best and frankly most simple solution is: increasing the amount of nature. Green roofs buffer and thus gradually release rainwater into the roof drains, helping to decrease the potential of flooding. Besides acting as a water buffer, they also offer a cooling effect. Inside the building in question, it will become less hot because the plants absorb less solar energy than dark bitumen. Green roofs also cool down when plants and the underlying growing material partly release the rainwater they absorb through evapotranspiration. Adding this up, the in- and outside of the roof won't become as warm as dark roofs!4
Outdoor living walls also have a heat-reducing effect. For the building's indoor climate, this means that the aircon can be used 33% less, saving energy! A property also loses 30% less heat when a green wall has been installed5. The natural air-purifying properties of plants, meanwhile, help to improve air quality.
Business parks are often located in between urban areas and nature. Biodiversity can be improved by transforming these areas. For instance, wildlife crossings that go over (or under) highways help wild animals travel from one natural habitat to another. Green business parks can have a similar 'stepping stone' function for birds, bees, and other pollinators. Or the fauna can even make them their homes!  
In the Netherlands, the nature education organisation IVN started the initiative 'Worklandscapes of the Future' to make business parks a more attractive location for employees. Especially now that many people are used to working from home, effort is required to make going to the workplace an inviting option again.
Further sustainability options
Green roofs and façades are suitable for office buildings and a very space-saving option. If there's also space available on the ground, there are plenty of additional measures that can be taken to decrease the urban heat island effect at business parks even further. Wadis are a good example, which are green places where rainwater can be temporarily stored and infiltrate into the ground. Obviously, planting trees and creating native flower meadows are also highly positive measures that help to solve issues of heat and water management as well as biodiversity. As little paved ground as possible ensures that as much water can infiltrate into the ground as possible and the area remains cooler. Applying a combination of multiple sustainable measures makes the business park more attractive for the people who visit it and work there, and will eventually be reflected in a higher real estate value of the properties as well.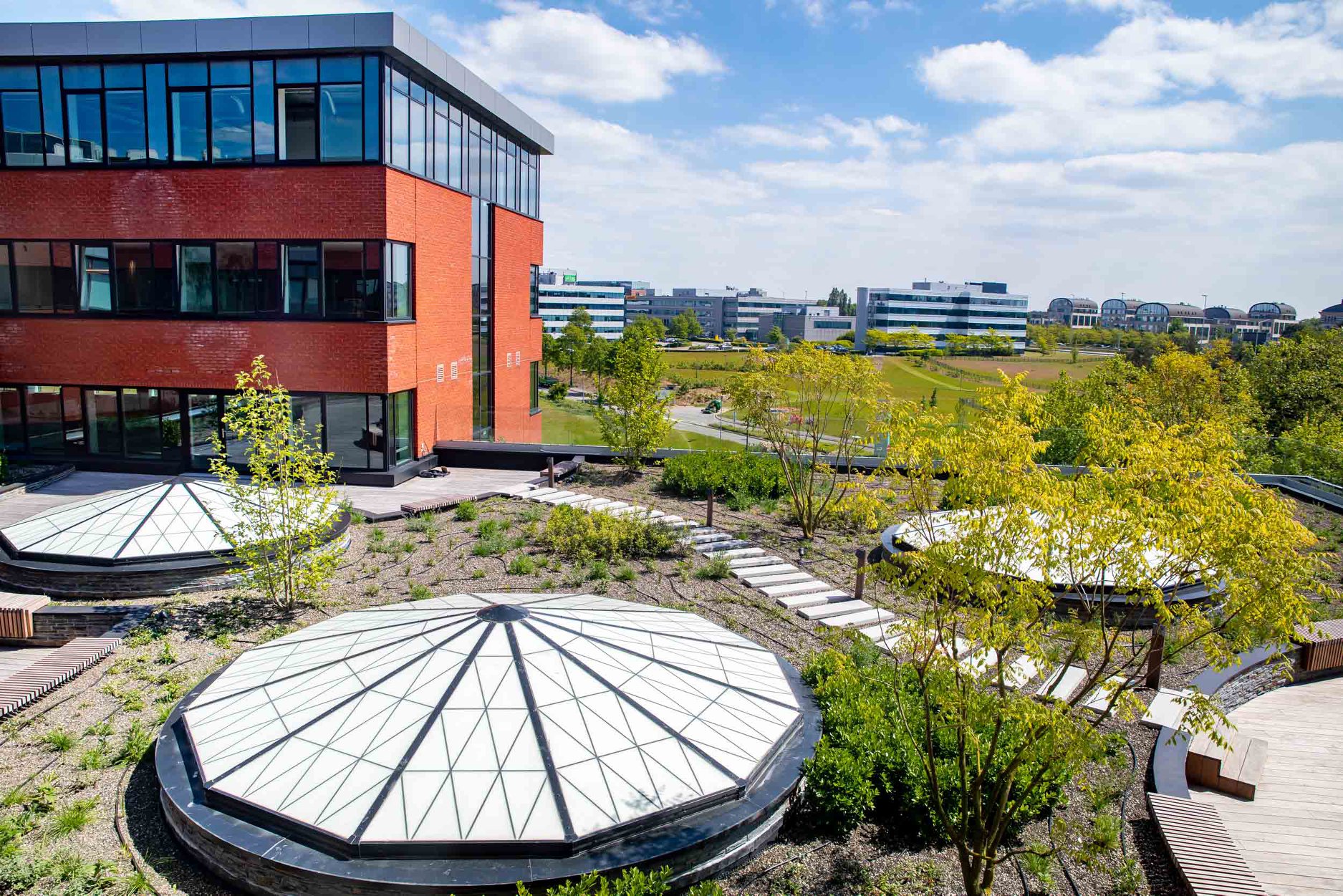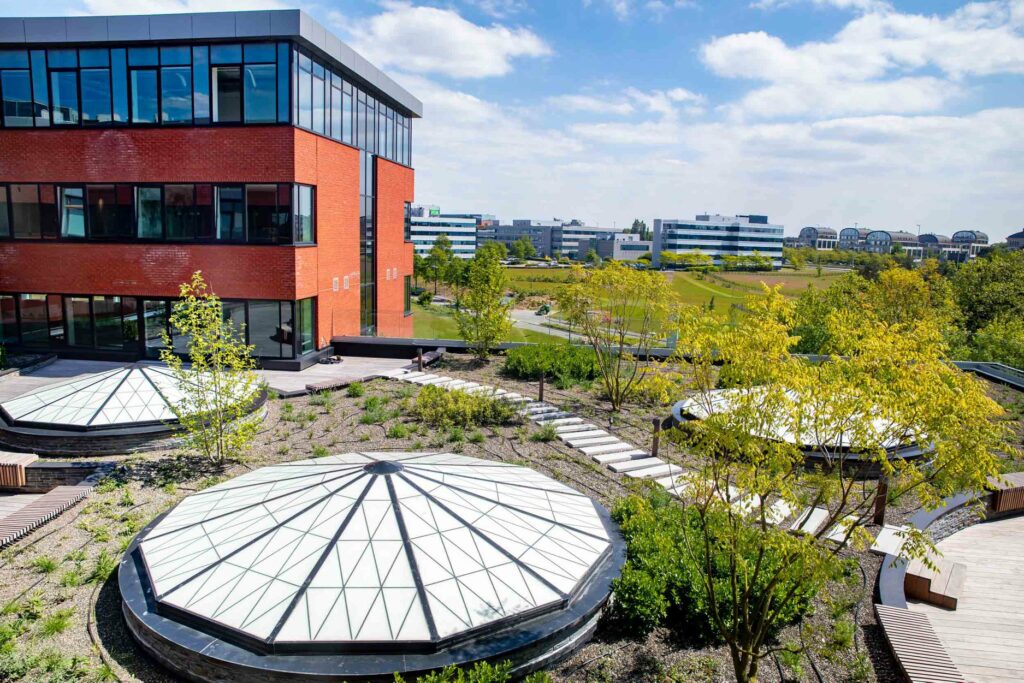 And what about sustainable energy? Solar panels and green roofs are a winning combination. As mentioned before, green roofs stay cooler than regular dark roofs. When both are implemented on one roof, the greenery keeps the air around the solar panels cooler, which in turn deliver more energy than if they were placed on a very hot, bitumen roof. This increase can go from 6% to even 20%6. A sound investment for both the environment and your wallet!
Illustrious examples – from 'petrified' to alive
Examples from practices luckily already exist. Below, we'll introduce you to a number of business parks and office buildings which improved their surroundings with the application of green façades:
1 . Park 20|20 Hoofddorp, The Netherlands
Park 20|20 in Hoofddorp is a green business park where people take centre stage. Health, sustainability, high-quality architecture and innovative technologies are the main pillars with which this space has been created. A prime example is the Poly office. The whole property has been built according to Cradle-to-Cradle standards. This is reflected in the luscious living wall on its façade. In between the plants, several butterfly hotels offer even more space for pollinators to thrive.
2 . Schiphol Trade Park, The Netherlands
Also in Hoofddorp, close to Amsterdam's airport Schiphol, the new circular ABC Square has arisen. The Cradle-to-Cradle philosophy was also at the forefront when designing this Business Campus of 35,000 m² was designed. This means that the materials used in the development of the park should be reusable or recyclable. In total, 8 SemperGreenwalls with a total surface area of 156 m² (511 sqft) have been installed at the front of one of the buildings. 2 more properties will be featuring the same green design in the future.
Because the SemperGreenwall system is Cradle to Cradle certified, it perfectly suits the vision of this business park. In addition to the plant walls' aesthetic value, they make an important contribution to air purification, cooling down the environment on warm, sunny days, and improving local biodiversity. The complete design resulted in a BREEAM-NL Excellent certification.
3 . Greenhouse BXL – Brussels, Belgium
In the Belgian town of Diegem, close to Brussels Airport, the office of Greenhouse BXL has been completely renovated with sustainability and high quality as the most important criteria. Indoors as well as outdoors, the property features 270 m² (885 sqft) of living walls. The result is an innovative and interactive business hub, attractive for both people and wildlife.
4 . Julius Klinke – Neuenrade, Germany
The company Julius Klinke has a long tradition of awareness of, responsibility for and commitment to the environment. Already since 2010, the whole company is heated and cooled by means of a heat pump. In addition, a huge living wall of 500 m² (1,640 sqft) wraps around their warehouse. This wall helps to store the products at a constant temperature of max. 18 degrees Celsius without requiring additional cooling methods in the summer. The vertical garden has since also become home to countless bees and other important insects.
5 . Logistics centre, Belgium
The Belgian distribution centre below is covered with a green façade of no less than 2,000 m² (6,560 sqft), meaning the greenery is already visible from afar. The plants make an important contribution to lower temperatures inside the centre while helping to cleanse the air outside. The living wall thus creates a pleasant workplace for the many employees of the distribution centre. With its integrated irrigation system, the SemperGreenwall ensures that all plants receive exactly the amount of water and nutrition they need.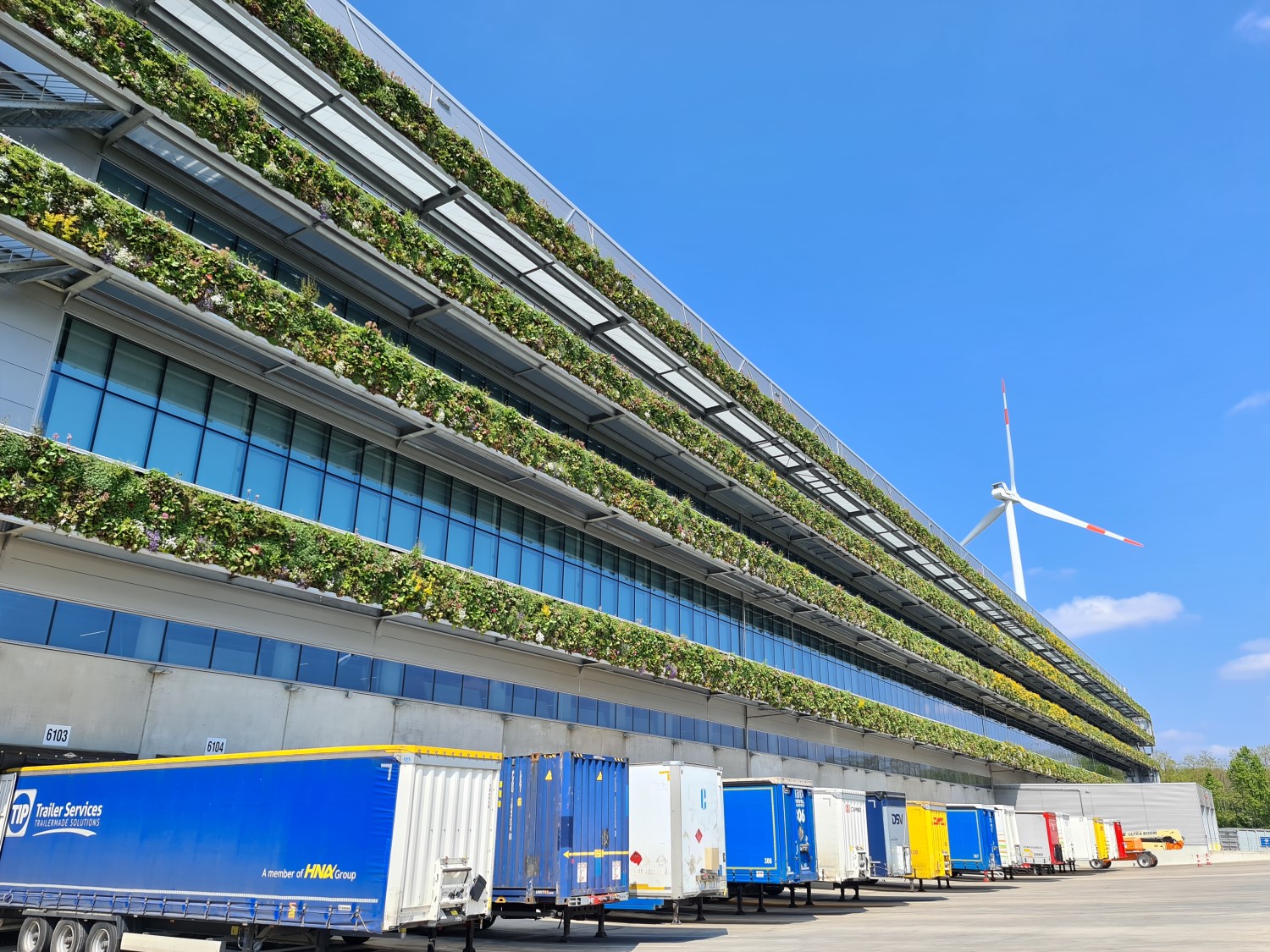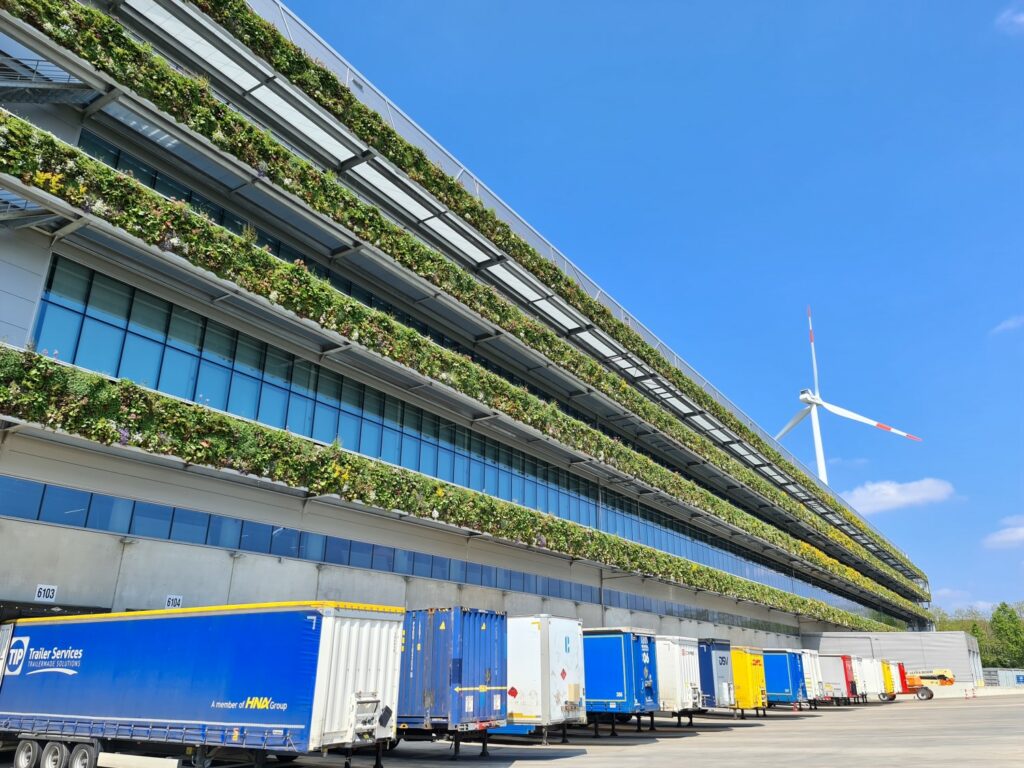 6 . Roma – Raamsdonksveer, The Netherlands
Roma, a supplier of products like insulated doors, is a frontrunner when it comes to making their business premises more sustainable. As one of the first offices in the Netherlands, Roma to have a green wall installed on their facade. Years later, the wall still enriches its surroundings, offering space and nutrition for pollinators.
For more information and advice on making business parks more sustainable, please contact one of our advisors.